Young Artists in Residence Summer Camp
July 27th-August 2nd, 2024
IB DP Theatre Workshop
This immersive, rich and intensive IB Theatre experience gives PRE IB & MID IB students the opportunity to engage with the key elements of the IB Diploma Theatre programme and to practice the art of theatre making in a practical, collaborative and enjoyable way.
Students will hone the skills necessary for success in assessment tasks, exploring diverse approaches to creation, direction, and performance. This program is especially valuable for MID IB students seeking to implement feedback from their theatre instructors or looking for effective strategies for summer assignments. It's an invaluable experience that significantly improves the quality of assessment work. Whether students are drafting their Director's Notebook, working on the Collaborative Project, or delving into research on a theatre theorist or theatre tradition, this program ensures they're well-prepared for their second year.
For those about to embark on IB Theatre or considering it (PRE IB), the IBWISE experience introduces key concepts and essential skills. It lays a solid foundation for the course, ensuring students have a head start. This program is also well-suited for students with minimal or no previous theatre exposure.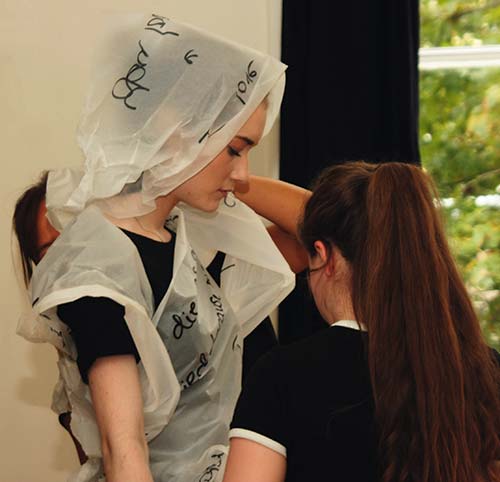 Create an original piece of site-specific theatre inspired by memory sites in the city of Vienna
This unique experience, structured as a series of workshops, centers on the requirements of the IB Diploma Theatre. It aims to foster a deep understanding of the program's key concepts through hands-on practice and application.
In the workshop's second module, participants delve deep into the intricacies of making, performing, and presenting theatre. Whether exploring grand narratives or intimate tales, young theatre enthusiasts will undergo a 3-day journey to craft an original site-specific theatre piece inspired by Vienna's storied locations. This immersive experience culminates in a fully produced and performed theatre piece, vividly bringing to life both participants' ideas and Vienna's rich history.
Our IB Theatre workshop leader
We are excited to announce that this year's IB Theatre workshop leader is the wonderful Fenella Kelly, B.Ed (Hons) MA (Dis). Fenella is a highly experienced International Drama & Theatre teacher and IB teacher trainer. She is an ISTA artist & senior consultant (www.ista.co.uk) who specializes in working with educators, communities and young people, both in the UK and internationally. Fenella is an IB Theatre Principal Examiner and Kathakali teacher & performer.