Vienna – the City of Dreams
Located on the banks of the beautiful Danube river, Vienna constantly ranks as the most livable city in the world. Its unique charm, history, and atmosphere make it a perfect place to host our residential camps.
Student-friendly and safe
Vienna is a fantastic place for young people. Safe and exceptionally well-organized, the city is easy to navigate by public transit or by foot, and the rich and welcoming energy of the city make our students feel right at home. Be it art, music, theatre, historic beauty, hip student cafés, trendy restaurants or avant-garde fashion, Vienna has it all!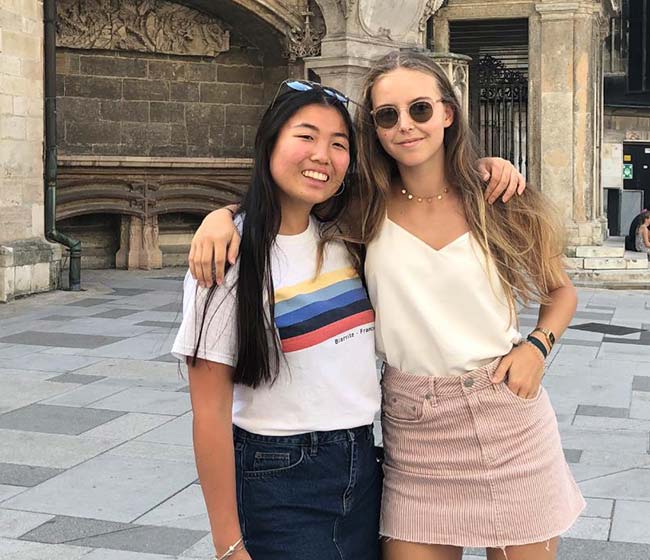 Explore Vienna's top attractions
Cultural Richness: Immerse yourself in Vienna's deep cultural heritage, a city that breathes history and art. Explore the magnificent Schönbrunn Palace, the Habsburgs' former summer residence, or get lost in the exquisite collections of the Kunsthistorisches Museum. Step back in time at St. Stephen's Cathedral, a Gothic masterpiece, or indulge in the sounds of Mozart and Strauss at the historic Vienna State Opera. The city's myriad museums, galleries, and concert halls make Vienna a cultural paradise for art and music lovers.
Innovative Spirit: Despite its deep roots in the past, Vienna is not a city that rests on its laurels. It is a bustling hub of innovation and modernity. The MuseumsQuartier, one of the largest districts for contemporary art and culture in the world, stands as a testament to Vienna's commitment to pushing the boundaries of creativity and expression. Moreover, Vienna's thriving tech start-up scene demonstrates the city's innovative spirit.
Natural Beauty: Surrounded by the enchanting Wienerwald (Vienna Woods), the city is a gateway to nature. During your free time at IBWISE, unwind by taking a leisurely stroll through the sprawling Prater Park, home to the iconic Giant Ferris Wheel, or visit the Vienna Zoo, located within the grounds of the Schönbrunn Palace and considered one of the best and oldest zoos in the world. The beautiful gardens of Belvedere Palace offer tranquility and breathtaking views of the city. Vienna's abundant green spaces are perfect for relaxing, picnicking, or just enjoying the scenery.